Results from May 2023 Bracco Italiano Club Open Show held under Chris Northam
Many congratulations to Ian Sladden with Valcor The Confessor at Canemamans JW Best Dog and Best In Show
RBIS and Best Puppy: Mrs L Thomas and Mr P Taylor with Gunsyn Hotpants RBIS and Best Puppy.
Best Veteran in Show Mrs Nina Coleman with Bonario Esprit
Best Working in Show M & C Sanderson with SH CH Owlspoint Trouble at Mill shCM ShCEX BWNL'18
Results from The Bracco Italiano Club Open Show 28th May 2022 held under judge Seonaid McAndrew
Congratulations to Best in Show Gunsyn Little Lies, and Jane Chadwick, the full list of awards follows
RBIS Braccorions Quest For Glory
BPIS Iolanda Di Cascina Croce at Solwaypoint
BV Bonario Chatelaine
Best Working Mantello Di Montericco
Best in Show was awarded this beautiful Glenessa Rose Bowl that was kindly donated by our Patron Mrs Julia Iles Hebbert.
Limit Show Feb 2020 Pam Blay
The club held another successful limit show, with judge Pam Blay:
The main winners:
BEST IN SHOW: Mrs J Powell's MADRELIATH'S OMAGGIO
RES BEST IN SHOW: Miss D Beecham's GRAFSKOE GNEZDO ARLO
BEST PUPPY IN SHOW: Mrs Angus and Mrs Critchley's PURDEX SHOWMAN
BEST VETERAN IN SHOW: Miss N Davies' TYRBECHGYN SEREN BEST
WORKING IN SHOW: Mr & Mrs Parr's BONARIO DAMASCUS
Thank you so so much to all who attended our Limited show today. The weather outside was frightful, but inside was truly delightful!
Limit Show Overseal September 2019
Judge Geoff Hargreaves
The club held their second limit show of the year at Overseal in Derbyshire. A well attended and another friendly show . Our judge for the day was Geoff Hargreaves and the results were as follows:
Best in Show and Best Veteran, Bell's Millpoint Double At OwlspointShCM.
Reserve Best in Show Harrison's Owlspoint Angel of Trouble
Best Puppy in Show Bell & Maddox's Tolriver Enzo At Owlspoint.
BRACCO ITALIANO CLUB –LIMIT SHOW – 10th February 2019 –
Judge Jean Byrne (Enryb)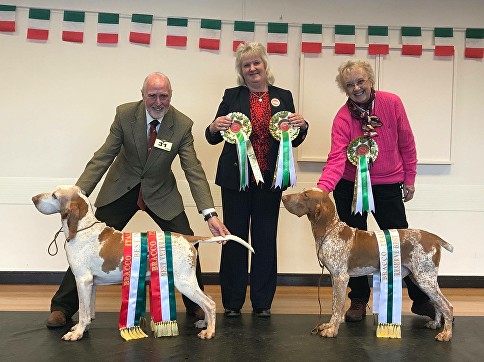 BEST IN SHOW and BEST VETERAN IN SHOW – Mr & Mrs Turney's Braccanza Fabrizio
RESERVE BEST IN SHOW – Mrs A Bartholomew's Owlspoint Trouble Shooter for Bartholeys
BEST PUPPY IN SHOW and RBIS – Mrs M Critchley's Braccorions Never Say Never
BEST BITCH Mr and Mrs Parr's Bonario Fagiana
BRACCO ITALIANO CLUB LIMIT SHOW -11th February 2018
Judge Miss Jean Lanning (Clausentum)
A great honour to judge the 'first' Bracco italiano Club Show in the U.K. A Members Limited Show, C.C. winners not eligible, but some good examples were presented. An ancient Italian working gundog that also gives a very good account in the field here. Obviously has links with the Pointer, but it's very characteristic head marks it out, with a 'stamp' all its own!! I could not wonder that this very tractable and handsome Breed, will catch on with the Public? Not something that the fanciers here, would really, welcome and be excited about? One could have said that about the early breeders of Labradors and Golden Retrievers!!. Now Britain's most favourite breeds. best friend, great gamily pets, Guide Dogs, hearing dogs etc. etc.
Puppy Dog 4, 2 abs
First – Sellwood's Jack di Montericco BPD – Well up to size. Strong bone, good feet. Powerful on the move, needs to firm in front
Second – J & A Frost's Dexter of Bushwacker = Lovely quality, not so forward, can turn the tables. Just needs time.
Post Grad Dog 5, 1 abs
First – Ansell & Wain's Madreliath Escavatore – Built on fine lines, but good quality. Excellent legs and feet. Good well set clean eyes
Second – Furedi's Echo Venator D'Ur – Has more substance, good bone, good feet, little plain in head.
Third – Fisher's Mantello di Montericco
Fourth – Selwood's Leone di Montericco
Limit Dog 2, 1abs
First – Furedi's Echo Venator D'Ursus
Open Dog 1
First – Titchmarsh's Mashefold Pioppo – Stands four square, with correct length of body. Pleasing head and eye. Excellent correct skin. Represents the breed well. BD RBIS
Special Working Dog 3 – These working dogs came into their own for make shape and soundness.
First – Parris' Bonario Denarius – Typical, showed how to move, with strong quarters, pleasing head and eye. BW RBD.
Second – Ansell & Wain's Madreliath Escavatore
Third – Parr's Bonario Damascus
Puppy Bitch 3
First – J & A Frost's Dora of Bushwacker – Lovely quality, good bone, feet and substance for age, clean eyes. Promising BPB BPIS
Second – Parris' Bonario Firefly – Needs time. Little hand shy, forgivable in one so young.
Third – Parr's Bonario Fagiana
Junior Bitch 3
First – Maddox & Bell's Owlspoint Queen of trouble – Fills the eye with her great quality. Well balanced stands four square. Excellent strong quarters, really covered the ground on the move. One of the best heads of the day,with good clean eye. One for the future. BB BOB
Second – Titchmarsh's Valcor Princess of Alderone
Post Graduate Bitch 3
First – Powell's Madreliath Omaggio – So feminine, good legs and feet, pleasing clear eye.
Second – Gayler's Gunsyn Estoque at Kelbenic – Good eye, pleasing head. Rather upright shoulder, spoilt her front action..
Third – Parris' Bonario Elsha
Limit Bitch 2 1abs
First – Critchley's Sazmallin Dolly Wagon Pike
Open Bitch 1
First – Maddox & Bell's Owlspoint Birs Venator D'Ursus – Good brisket, square, strong mover. All quality.
Veteran Bitch 2 1abs
First – Powell's Bonario Burlesque – High class, carries her years like a youngster. Strong quarters, stands square, moves soundly with drive. BVIS RBB
Special Working Bitch 1
First – Parr's Bonario Chatelaine – Another built right moves right. Good brisket excellent legs and feet, good eye.
BIS Maddox & Bell's Owlspoint Queen of Trouble
RBIS Titchmarsh's Mashefolds Pioppo
BPIS J & A Frost's Dora of Bushwacker
RBPIS Sellwood's Jack di Montericco
BVIS Powell's Bonario Burlesqu
BW Parris' Bonario Denarius